Post Thanksgiving Cocktail Recipes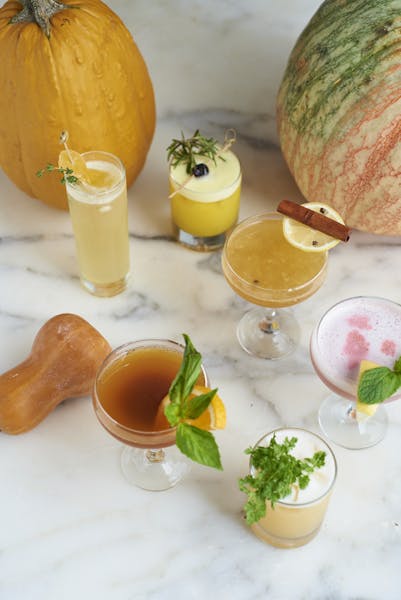 Meet Me in Termoli
1.5oz butternut squash infused bourbon (recipe below)
3/4oz suze
3/4oz cynar
Shake with ice and strain into a coup glass. Garnish with orange slice and your choice of herb sprig.
To make infused bourbon: Peel squash and cut roughly one quarter of the squash into cubes. Mix cubes in a bowl with 3/4 cup sugar, 3 teaspoons of cinnamon, and peels from two lemons and one orange. Mix well and transfer to a sheet tray, cooking on 300°F for 30 minutes or until squash is very tender. Cool and transfer back to a bowl or glass storage container. Add one 750mL of bourbon and steep for at least a day but up to three days. Strain before use (tip: steeped bourbon should fit back into its original bottle).
The Nun's Kiss
1.5oz ginger-pear belvedere (regular vodka can also be used)
1/2oz st. germain
1/2oz yellow chartreuse
3.5oz ginger pear tea (recipe below)
2 dash bitters
Shake and strain the above into a highball glass with fresh ice, a piece of candied ginger and a lemon slice.
To make ginger pear tea: steep sliced ginger root or ginger tea with a cup of boiling water and quarter cup of sugar. Once cooled, blend with half of a ripe pear and an eighth of a cup of lemon juice.
The Glow of Heaven
2oz vodka
3/4oz agave or honey
1/2 teaspoon turmeric powder
1/2oz lime juice
one egg white
dash orange bitters
Shake all ingredients and strain over fresh ice in a rocks glass. Garnish with a cherry and sprig of rosemary.
The Red Lantern
2oz portofino gin
1/2oz pomegranate juice
1/2oz agave or honey
one egg white
dash of white vermouth
dash bitters
Rinse a Martini glass with your favorite white vermouth and chill in the freezer. Meanwhile, shake all ingredients until egg froths. Strain into martini glass and top with a few drops of bitters and a sprig of mint.